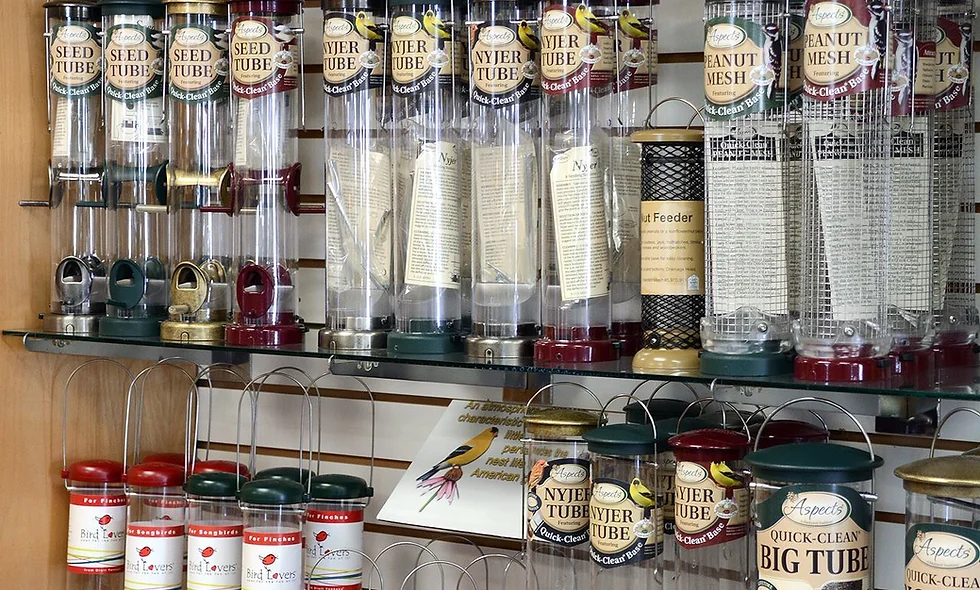 JJ Cardinal's has a wide selection of equipment for your wildlife friends. Our bird and beastie supplies include housing and feeders, along with their hanging systems. We seek out suppliers that stand behind their products with support and warranties. As often as possible we provide products made in the USA.

We invite you to stop in, so we can ask you the right questions to customize your purchase for your individual needs.
You will find a diverse selection of feeders. There is no single perfect feeder. Everyone's wants needs and desires are different. We carry tube, hopper and platform feeders for seed. We sell specialty feeders to keep out squirrels and to provide sanctuary for small birds from the larger aggressive birds. Our suet feeders include traditional, upside down, those with tail props for woodpeckers and log feeders. We carry nut feeders that work for peanuts either in or out of the shell. We even have a feeder for those that have bears. It won't stop them from taking it down but it's heavy-duty construction will make it possible for you to use it again. We can also provide you with feeders for other critters at your feeding stations. We have special squirrel feeders that have seating platforms and ones that ring a bell, so you know when they are about. There are tray feeders for a large range of critter food options. There is not enough room for a description of all of our feeders we carry over 67 types. You need to stop in to see for yourself.
There are hanging solutions to meet almost every need. We carry quality pole systems made in the United States. There are poles and hooks that go into the ground or can be attached to your deck or hung from a tree. JJ also has a customizable pole system that can be assembled per your requirements. There are add on arms and hooks that range from large to small, long to short. We have baffles for both squirrels and raccoons. There are twist support systems to add 4X4's into the ground so you don't need to dig a hole. There are support rings to add both a pole or a 4X4 to your patio.
We have bird houses that are functional and beautiful. Only birds that live in a cavity will live in a house. There is no such thing as a hummingbird house, because they make a cup nest between branches of tall shrubs. Bird Houses are primarily used for nesting. In the winter they can provide shelter from the elements. A good bird house always has a cleanout opening. It is not hard to imagine why if you think of the mess made in a baby nursery. When you want to add a bird house to your garden you will need to know what type of bird you wish to attract and where you want to place it. The size of the hole, the type of hanging and attachment all play a part in what you will want to take home with you. When you come in, we can help you make a selection that is good for you and your feathered friends.